Image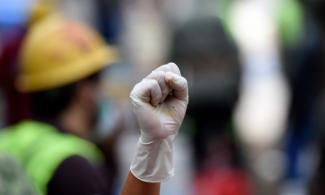 Exploitation at Yellow Tree and Weis Sites
Around the Twin Cities, a struggle is brewing between construction workers and contractors. Maybe you've seen the banner holders, working on behalf of a local Trades union, outside of Yellow Tree sites. Maybe you've seen the Painters Union, IUPAT, picketing at the Weis construction site near the U of M. Maybe you've seen the posters that Carpenters rank and file members and our fellow workers in the Solidarity Network have been putting up around South Minneapolis. The struggle is starting to bubble, and we need to turn up the heat.
At the center of this conflict are two construction subcontractors- Painting America and Absolute Drywall, both of which have a history of misclassifying workers as independent contractors in order to skirt labor law. Painting America was cited for this by the Department of Labor. Absolute Drywall's rap sheet includes misclassification of workers, child labor, and over $10,000 in wage theft. Now, they are both active on job sites in the Twin Cities. Both companies have been spotted working at job sites by Yellow Tree, a non-union contractor. Painting America has been seen at union contractor Weis's job sites.
These subcontractors run on a model of exploiting vulnerable workers, especially undocumented workers. By misclassifying workers, these subs are skipping out on payroll taxes and benefits their workers are owed, including unemployment benefits. It also allows them avoid overtime pay and minimum wage laws. A substantial minority (estimates range between 10-35%) of contractors in construction misclassify their employees, and this allows them to bid low and take contracts that otherwise would go to companies which are obeying the basic wage and tax laws. This is a major way that non-union subcontractors undercut worker power in the industry, trying to trap workers in a race to the bottom.
The easiest way for contractors to get away with this, is by exploiting undocumented workers- who may fear deportation or other legal penalties if they report the fraud. At the most extreme end of the spectrum, as we saw in the case of Ricardo Batres and the victims of his trafficking schemes, subcontractors traffick their workers- keeping control over their housing and transport, stopping them from leaving and seeking other work, and hurting or threatening to hurt them or their families if they try to organize or report the abuse. The fight against misclassification is hand in glove with the fight against labor trafficking in construction.
Workers from Yellow Tree projects report wage theft as well as payroll tax fraud through pay-by-cash off the books schemes. Their labor brokers have paid cash with no overtime, no tax withholdings, and no state registered training program for safety. These workers are being robbed of their rightful pay and benefits by the contractors.
The Unions Are Fighting Back
For the last several weeks, the local Building Trades unions have been sending hired banner holders outside of Yellow Tree Sites to raise public awareness about the issue. Seeing these banners, rank and file members of the Solidarity Network inside the Building Trades have talked with our unions and started distributing flyers exposing Yellow Tree, Absolute Drywall, and Painting America for their complicity in trafficking. Not going farther than the unions have gone yet, we have limited the call to action on these flyers to a call-in campaign against Yellow Tree.
Now, the Painter's Union has entered the fight, with a picket at the Weis site at the former Princeton Review, 2800 University Ave SE, Minneapolis. The company has set up a two-gate system, with the union trades entering the job from the side near University, and the Painting America crews entering from St Mary's Ave SE, out of site of traffic. This is where the IUPAT pickets have to stand their ground. While the unions try to talk to and educate the workers under these subcontractors about our rights as workers, we also are starting to turn up the pressure on the companies to drop these subcontractors.
But more action is needed by workers in the industry and our fellow workers across the whole community, to press this home to victory. Our unions are bound by anti-labor laws to restrict what sort of action they are allowed to take. But we at the Solidarity Network are not a union bound by those restrictions- we are a network of workers committed to direct action against exploitation. We, and other community members, can take autonomous action to support this struggle.
What Can We Do?
At this time, the struggle is still heating up, and so we and the unions are keeping plenty of tactics up our sleeves. To carry out this struggle, we need to build the force of the community to rise up against these abusive companies and in defense of our fellow workers. So for now, here are a couple things you can do:
 
1. Phone Zap
We can let the companies know that we are watching them and that actions will continue and escalate as long as they use these exploitative subcontractors. Yellow Tree can be reached at 612-275-7210. The number for Weis is 612-243-5000.
Tell Yellow Tree and Weis that you have noticed the banners, pickets, and flyers and that you are opposed to them using these subcontractors and exploiting these workers. Tell them that you and your friends and community members are ready to take further action in solidarity with construction workers. Demand that Weis drop Painting America. Demand that Yellow Tree refuse to entertain bids from contractors who are engaged in misclassification, wage theft, and exploitation of vulnerable workers, and make a concrete plan to end all of these practices on their projects. Demand that Yellow Tree commit to using the rent they draw from their apartment portfolio to cover the stolen wages of the workers.
There is no concentrated phone zap called at this time to disrupt these offices; feel free to call in at any time and as many times as you want.
2. Flyer
Take the flyers attached to this article. Print them off, and spread them around your neighborhood. Tell your friends, family, neighbors, and coworkers about what's going on at Yellow Tree and Weis. Get them to call in to the contractors and state their support for workers' demands. Contact us at the Solidarity Network to join one of our regular flyering walks, or to help organize one in your neighborhood. You can reach us at tcsolet@protonmail.com.
3. Join the picket
Head down to 2800 University Ave SE, Minneapolis, where as of September 9th the IUPAT Local 82 is maintaining a picket line against Painting America at the Weis site. If you are a worker on the site, respect the IUPAT picket line and lay down your tools.
4. Keep informed
Finally, keep informed on what's going on in this struggle. On Facebook, can follow the MN Building and Construction Trades Council, the Painter's union at IUPAT Local 82, and the North Central States Regional Council of Carpenters. You can also follow us at the Solidarity Network here on this site, or on our Facebook or Twitter. The workers center CTUL, the Center for Workers United in Struggle, has also done work with the unions in combatting trafficking and fighting for immigrant workers.