Image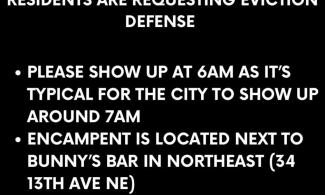 An eviction notice was given to the 1913 camp and the city is clearing it tomorrow morning. Residents are requesting eviction defense.
Please show up at 6am as it's typical for the city to show up around 7am

Encampment is located next to Bunny's Bar in Northeast (34 13th Ave NE)

Please be respectful and don't escalate. You are there to be a barrier between the city and residents.

If you are able bring warm drinks and snacks to share.