Image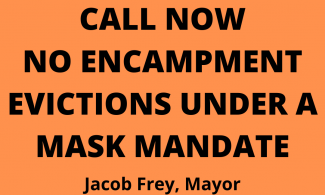 Tell the City of Minneapolis to disavow government violence as a response to poverty
Sample call script: I am calling on you to cancel Tuesday's plan to displace people from Near North camp. I support the demands of camp residents:
No forced removal or destruction.
All decisions about Near North camp happen with residents' consent.
No use of police or other public resources to displace people ever.
Permanent or at least transitional housing, or even alternative vacant land, provided before leaving this camp.
Mayor's Office
Jacob Frey, Mayor of Minneapolis
jacob.frey@minneapolismn.gov
@MayorFrey @Jacob_Frey
612-968-4443
Peter Ebnet, Senior Policy Advisor (and a driving force for this cruelty)
@peterebnet, linkedin/peter-j-ebnet
Peter.Ebnet@minneapolismn.gov
612-673-2156
Gia Vitali, Chief of Staff
Gia.Vitali@minneapolismn.gov
612-673-3665
Mychal Vlakovich, Communications Director
@mdvlatkovich, linkedin/mychalvlatkovich
Mychal.Vlakovich@minneapolismn.gov
612-346-0875
Minneapolis Office of Community Planning & Economic Development (CPED)
Andrea Brennan, Housing Policy & Development Director and Interim Director of CPED
andrea.brennan@minneapolismn.gov
612-673-5128
Maikao Vue. Homeless Response Coordinator
maikao.vue@minneapolismn.gov
612-263-4575
Erik Hansen, Economic Policy & Development Director
@erik3815, linkedin/erik3815
erik.hansen@minneapolismn.gov
612-673-5159
Katie Topinka, Housing Policy Coordinator
katie.topinka@minneapolismn.gov
612-364-4657
Minneapolis Regulatory Services
Saray Garnett-Hochuli, Director
linkedin/saray-garnett-hochuli-77a49923
311 or 612-673-3000
Minneapolis Public Works
Brette Hjelle, Interim Director of Public Works
linkedin/brette-hjelle
Brette.Hjelle@minneapolismn.gov
612-673-2365
Margaret Anderson Kelliher, Nominated Incoming Director of Public Works
Margaret.Andersonkelliher@minneapolismn.gov
Minneapolis Health Department
Heidi Ritchie, Interim Commissioner of Health
heidi.ritchie@minneapolismn.gov
612-346-2283
Bobby Morrow
612-673-2487
Jose Acuna
612-673-3651