Image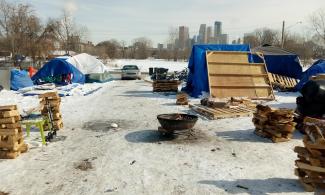 Background
Minneapolis is a city that's pushed aside houseless people so as to ignore rising houselessness for years.
This is a city that promised an insufficient 100 indoor tiny houses before winter and has not delivered even that— it's almost spring.
This is a city where the transit police ejected people from a critical warming station during –40° windchill weather, and no other law enforcement agency or anyone else stopped this human rights violation.
This is a city where the Parks Board not only forcibly cleared camps, but has repeatedly allowed their police department to destroy encampments on non-Park land.  And again, no other law enforcement agency or anyone has stopped this lawless activity.  (Watch people displaced at Marshal tell their story in this moving video.)
It stops here.
Join others in your community defending Near North camp, supporting its community's demands, and donating to make the dreams of secure homes a reality.
Demands
No forced removal or destruction.
All decisions about Near North camp happen with residents' consent.

No use of police or other public resources to displace people ever

.

Land to move to

together

, on which to establish permanent homes, before leaving this camp

.
Updates
The city backed down!  For now.  Finally a person from CPED talked to a resident, Cpo, on the phone, and confirmed afterward:
I'm emailing you as you requested. Per our conversation a few moments ago:

The Near North (Vanwhite/Girard) encampment will not be closed on Friday 02/26/21. The meeting tomorrow 02/24/21 at 11:15am at LaDona Cerveceria would be about the possibility of providing additional time. Avivo Outreach team will be present to offer services to anyone that is interested. 

Best,

Maikao Vue 

Homeless Response Coordinator
CPED puts up fliers changing the date of camp "closing" (a euphemism for violent forced removal of people and destruction) to February 26, still without providing any justification for the demand.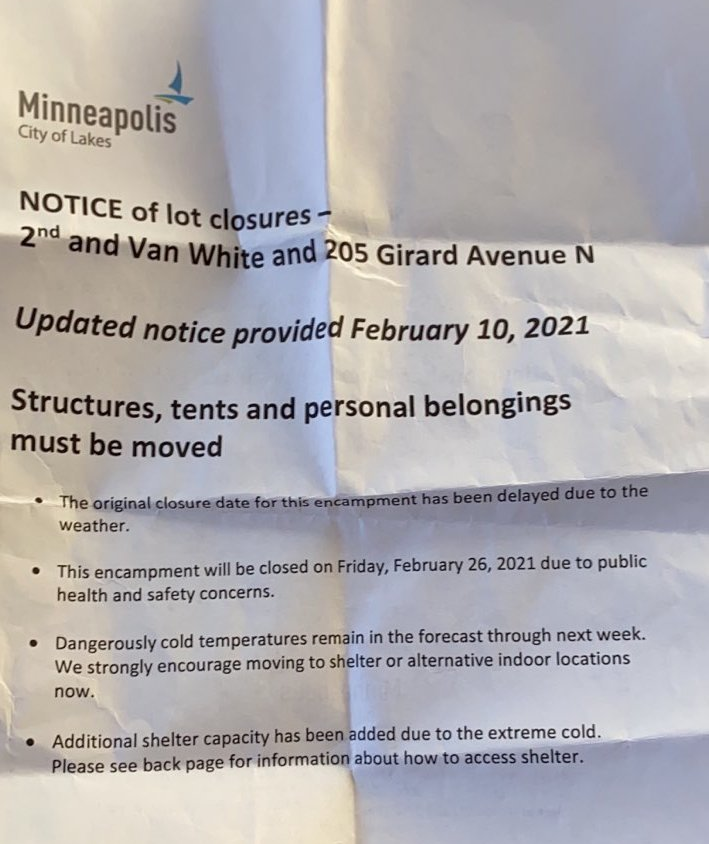 Director of Economic Development for Minneapolis, Erik Hansen (612 673-5159 / erik.hansen@minneapolismn.gov) is spotted putting up these flyers at the camp, which declared This encampment will be closed on Friday, February 12, 2021 due to public health and safety concerns.  These alleged concerns were not specified, unless it refers to the second bullet point: Dangerously cold temperatures are forecast starting this Friday which residents were already trying to fundraise for and destroying people's homes during –40° windchills only hurts.